COOPERATIVE FOR THE PRODUCTION OF FILMS,
EXHIBITIONS
AND EVENTS INTO DOCUMENTARY AND EXPERIMENTAL CINEMA


LAIA is a co-op working in culture, cinematographic and artistic fields, as well as free forms of critical and collective thought. "Laia" is a portuguese slang word often used to describe collective characteristics or behaviours that are looked down on or misunderstood. Our work is nourished by this irreverent energy that instigates new perspectives and production strategies in cultural cooperation and knowledge exchange.
"Laia" is also a common name for silver, which is a pleasant material for us, since the foundations of this cooperative are based on the experimental practice of cinema and on the inheritance of its silver crystals.

The Laia co-op emerges in the city of Porto and the activities that we intend to support include film production, film screenings, training and artistic residencies. We are creating a film laboratory specialised in analogue film, (super8, 16mm and 35mm), while also incorporating digital technologies. With this we intend to create dialogues and partnerships that will foster new experimental practices of free use, while filling in the gap of analogue film production in this city, providing an open space for those who want to use it and inhabit it.


LAETITIA MORAIS
(b. Paris - 1984. Resides in Porto)
Visual artist, researcher and lecturer. Graduated in Painting at the University of Fine Arts in Porto and actual PhD researcher at Zurich University of Arts and Kunstuniversität Linz. Professor in the field of Art, since 2008, in higher education – Coimbra College of Education; Faculty of Architecture at the University de Coimbra and School of Arts, UCP.

Presented work in galleries and events, such as Mota Museum, Ljubljana; Spoilt, Peacock Art Centre - Aberdeen; Kvitvechir, Kiev; Gallery Faticart, Rome; General Public, Berlin; Rewire, The Hague; Audiovisiva 4.0, Milan; Elbphilharmonie, Hamburg; Störung, Barcelona; Sonic Scope, Lisbon; Cynetart, Festspielhaus Hellerau, Dresden; Close, New York; Screen Compositions, New York; Mózg, Bydgoszcz; Zé dos Bois Gallery, Lisbon; Experimental Intermedia Foundation, New York; CIAJG, Guimarães; Porto Municipal Gallery, Porto; Contemporary Arts Center Arquipélago, Azores and the Arts Center of New York University, Abu Dhabi; Denison Art Gallery, Columbus, Ohio; OnGoing Art Center, Tokyo; Porta 33 Gallery, Madeira; Ircam Forum NYU, New York.

Granted by the Ernesto de Sousa 2011 from the Calouste Gulbenkian + FLAD Foundation; award for best music video, at the Curtas Vila do Conde Film Festival 2016; Research Award 2018, by the Vienna Academy of Arts; Shuttle 2020 by Plaka; Gulbenkian for visual arts 2023. Actual artist-in-residence at Ateliers Municipais do Porto. She is a member of the Torre Cinema Laboratory and co-founder of the cultural cooperative Laia.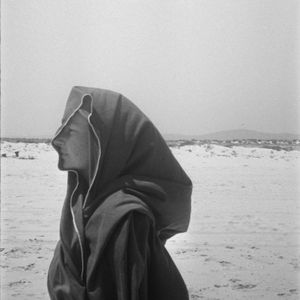 MÓNICA BAPTISTA (Porto - 1984)
Graduated in Fine Arts-Painting from the Faculty of Fine Arts of Porto. She develops work in the field of photography, video, documentary and experimental cinema, with a special focus on analogue, super8, 16mm and 35mm media. Pitões das Júnias (Trás-os-Montes) has been a gestational place for the development of her work, as well as cyclical travel contexts and the frequency of artistic residencies, among which, ZDB - Lisbon, Location One - New York, Crater Lab - Barcelona, Atelier 105 - Light Cone - Paris and LEC - Experimental Cine Laboratory in Mexico City. Her work has been shown in Portugal and internationally, in galleries and film festivals. Her filmography includes Água Forte (2018) premiered at the Vila do Conde Short Film Festival, honorable mention at the Luso Brasileiro Festival and acquisition award from the Porto City Council, Cem Raios t'Abram (co-directed, 2015) premiered at the Festival Vila do Conte Short Films(2014) premiered at the Doc Lisboa Festival, Diário (2010) BES Revelação award - shown at the Serralves Museum and the documentary Territórios (2009) premiered at the Critics' Week (Cannes Festival) and winner of the Best Director award at the Visions du festival Reel (Switzerland).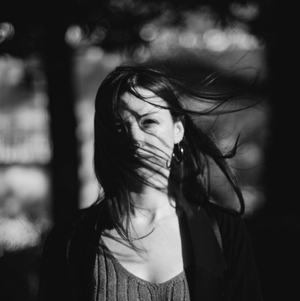 SOFIA ARRISCADO (Porto - 1984)
Studied Audiovisual Directing and Post-production in Lisbon and Philosophy in Porto. She works in the areas of documentary recording, video art and experimental cinema. collaboratesince 2006 with artists linked to the performing arts.She was camera operator and co-editor of the film Youth of Athens by Pauliana V.Pimentel and camera operator in the films After the Law and Echo of Jonathan's GutsUliel Saldanha.She was a member of the selection committee for the International Film Festival CompetitionPort/Post/Doc (2016-2018).Of her authorial work, Fasma (2017), Lapso (2021), co-authorcarried out with Costanza Givone, winner of the EDP/Maat Foundation Acquisition Prize at the 13th edition of FUSO - Lisbon International Video Art Festival (2021) and theAcquisition Prize - XXII Cerveira International Art Biennial (2022), and Água Ardente (2022), film installation co-authored with Laetitia Morais and Mónica Baptista.She is a member of the Torre Cinema Laboratory and co-founder of the cultural cooperative Laia, dedicated to the investigation and production of experimental cinema
PRODUCER
LILIANA S. LASPRILLA (1987)
Graduated in Communication Technologies at the University of Aveiro (2008), specialized in Cinema Production at ECAM – Escuela de Cinematografía de Madrid (2011). She took her first steps in fiction films in 2009, in Spain, and in 2013 she returned to Portugal to enter the world of documentary. Since then, she has collaborated with several authors in Portugal, Brazil and Spain. Her last works produced as Executive Producer are: "SAUDADE DO FUTURO" (2020, DOC, 80'), by Anna Azevedo, Portuguese-Brazilian co-production, winner of the Grand Prix of the Brasília International Film Festival, 2021; "Vento de Sal" (2019, DOC, 17'), by Anna Azevedo (ABD Award - Best Documentary at É Tudo Verdade International Film Festival, 2019); "LUANA" (2018, FIC, 23'), by Pedro Magano (Gijón International Film Festival (ES), Shorts Mexico (MEX), Cartagena International Film Festival (CO), Cinetoro (CO), Caminhos do Cinema Festival Português (PT), Shortcutz Lisboa (Best Film), ShortCutz Viseu (Best Short Film 2019), Capital Cities Festival (USA), Fest Imatges (ES); "IRMÃOS" (2015, DOC, 70'), by Pedro Magano (Grand Prize at the Caminhos do Cinema Português Festival, Best Documentary at FEST – New Directors, New Films Festival (PT), DOCS DF Festival (MEX), among others.
In parallel, she is also a trainer in the field of Film and Audiovisual Production, was a member of the jury of the Luso-Brasileiro Film Festival (2016), in the pitching forum of FEST – New Directors, New Films Festival (2017) and in the ShortCutz Ovar (2018). She is also the current Project Manager and Industry Coordinator of Porto/Post/ Doc: Film & Media Festival, (PT) and the Producer of LAIA Coop, dedicated to experimental and documentary film projects.
Recently, Liliana also founded her own production company, Sabina Films, and is developing: "O Feitiço de Areia", by Vanessa Rodrigues, supported by the ICA-Instituto do Cinema, a co-production with Real Fiction; "Samba de Guerrilha", by Luca Argel, a series supported for its development by the ICA - Instituto do Cinema; "Sociedade Anónima", by Vanessa Rodrigues, under development, having been a short-film selected for the Arché-Porto laboratory in 2021; and "Arran Strong", by Ricardo Pina and João Tudela, a documentary series in development, recently selected for the international market Conecta Ficción 2022, in Spain.